We have astonishing levels of segregation here in Washington, DC, my home town. It might be the worst in the USA, but there are a lot of other major cities vying for the title – Los Angeles being one of them. Take a look at this column, maybe from Salon:
======
Re: Charter schools, like cars and other products, are creeping into TV shows.
Joshua Leibner/Salon March 21, 2015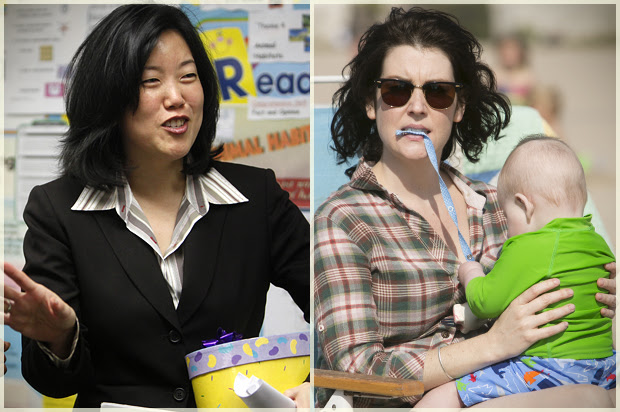 Charter school dogma has made it to the Big Time. It just got its own soapbox on the Duplass brothers' HBO Sunday night series "Togetherness."
Who cares what a Hollywood show about "disenfranchised and lost" film industry workers and their precious progeny does?
We all should, because "Togetherness" very much reflects the state of national discourse on education and its corrosive effects on public schools, particularly as it has played out in Los Angeles.
The reality is that wealthy white people, as a rule, control the charter school industry across the country. White people run the billionaire philanthropic foundations that funnel money into charter schools. White people dominate the editorial boards of the major urban papers who sympathize with charter school interests.
Neighborhood schools with ever-growing class sizes, maligned teachers, obsessed with standardized test-based "rigor," stripped of arts, music, field trips, nurses, janitors, counselors, libraries, physical education, integrity, or as Education Secretary Arne Duncan might put it, "air." They are schools deprived of much-needed physical repairs and teachers deprived of support and training in favor of ill-considered technological quick-fixes. Schools have fallen victim to "market-based" reforms imposed without a shred of evidence of pedagogical effectiveness, except the fantasies of economists and billionaire businessmen who demanded them in the first place.
The sad reality is that almost anything can be imposed on the neighborhood schools of poor kids of color — testing, school closing, inexperienced "revolving door" teachers — because those parents simply do not have the same economic or political clout as their white counterparts.
Many HBO "Togetherness" scenarios are familiar in LAUSD from some of the charter school skirmishes on the West Side where parents with clout and power argue for co-locations. One HBO dinner table discussion will be familiar to plenty of educated, middle-upper class parents in urban districts who would like to consider a local school but are too busy in their own lives to do the true hard work of making public education better.  So, they leave it to "organizations" with a glossy spiel to do the heavy lifting and then sign up with them. Then they convince themselves that this is the best thing for their kid, and once that decision is made, they have a vested interest in believing it to the point where now they will do the hard work to preserve what they have for their kid.
Instead, it's clear that the HBO Duplass brothers, and their characters, are speaking completely un-ironically and obliviously about all their white privilege and entitlement and, yes, racism and classism in defining what constitutes "good" for them. With HBO's endorsement, they believe and hope that they are speaking for and to an affluent white audience who are rooting for the show's characters.
And the viewpoints depicted in the show trickle down Colorado Blvd. to L.A'.s District 5 school board race and join the debate throughout the rest of the country.
We should all be very, very concerned with the type of "togetherness" we are being sold here.